U.S Citizenship Guide
Understand the U.S citizenship application with Visa2us
U.S. Citizenship (Naturalization)
With a few clicks, make the application a pleasing journey to the U.S.
U.S. Citizenship
If you meet certain requirements, you may become a U.S. citizen via naturalization application.
What is Naturalization?
Naturalization is the process of an individual born outside of the United States becoming a United States Citizen. Green card holders can go through a naturalization process, but the requirement for application is having lived inside the U.S. for five years if single, and three years for those married green card holders. The naturalization process involves a lawful permanent resident meeting the requirements that have been established by Congress in the Immigration and Nationality Act. For full information on the act, please visit USA.gov.
What are the Legal Requirements for a Naturalized Citizenship?
To become a U.S. citizen through Naturalization, one must be:
Be at least 18 years old
Have been a lawful permanent resident at least three or five years (depends on which naturalization category)
Have a continuous physical presence and residence in the U.S.
Have basic reading, writing, speaking, and listening English skills
Show good moral character;
Show that you understand and have knowledge of the U.S. history and government;
Demonstrate loyalty to the U.S. Constitution principles; and
Willing to take the Oath of Allegiance.
Applying at the right time and within the guidelines laid out by the USCIS is crucial for beginning the naturalization process. The following table illustrates exactly when such procedures can begin for different categories of individuals: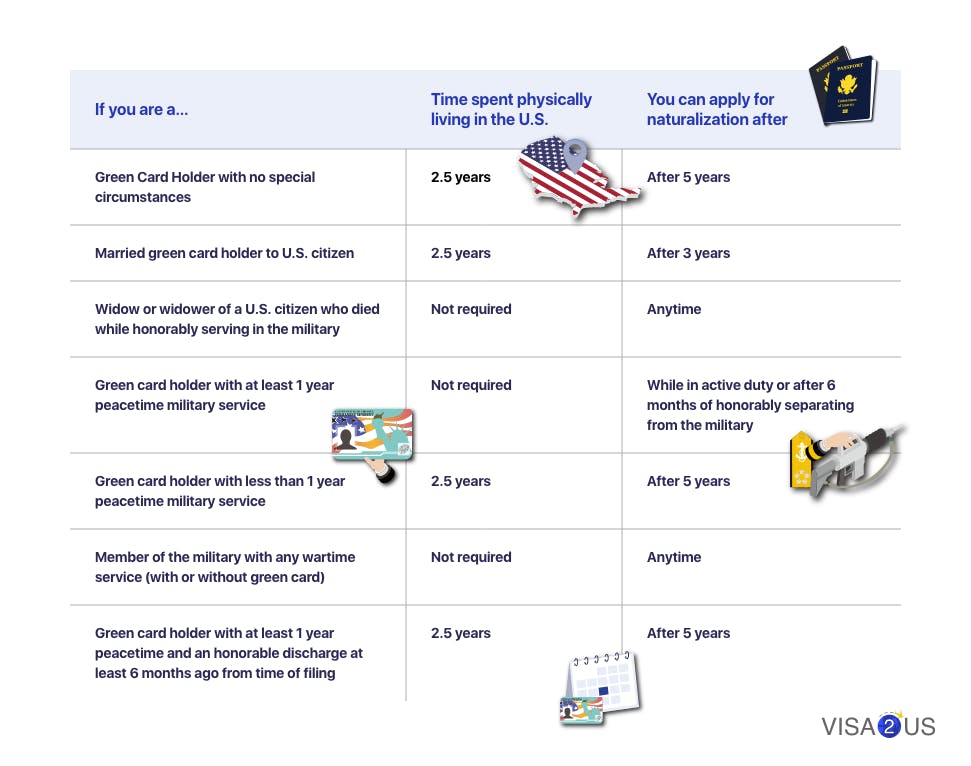 Application Process
Filing Online
Create a USCIS online account
Submit evidence and pay all applicable fees online
Receive updates on their case status
Provide additional evidence and documents as requested 
Filing by Paper
Read, complete, and sign Form N-400 (Application for Naturalization)
Pay filing fee (if not waived)
Include all required evidence and supporting documentation as requested
Create an online USCIS account to track case status
Required Documents
Essential Documents
A photocopy of Permanent Resident Card (Generally known as Green Card)
Application Fee
2 identical passport standard photographs, at the back of each photo, please have your Alien Registration Number written lightly in pencil (Only required if you're living outside of the U.S.
Additional Documents
The below chart lists the additional documents for various scenarios.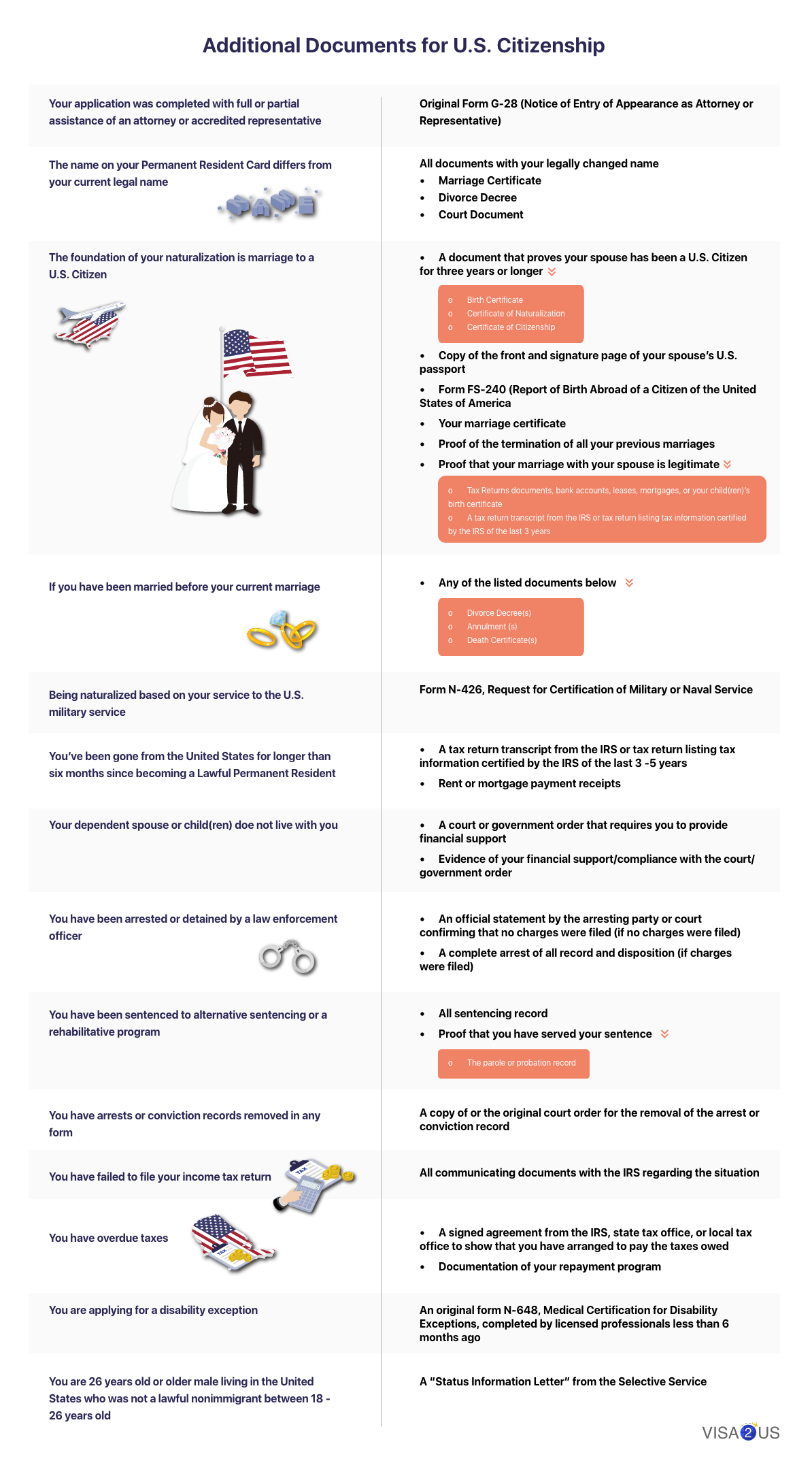 How Much Does N-400 Cost?
Naturalization Citizenship Application fee: $640
Biometric Fee: $85
Exceptions:
Applicants 75 years old or older do not need to pay a biometric fee.
Free for military applicants filing under section 328 or 329.
Application Timeline
1. Determine if you already have U.S. citizenship
Proceed to the next step only if you are not a U.S. citizen by birth or did not acquire or derive U.S. citizenship by birth from your parents.
2. Determine your eligibility to become a U.S. citizen
Review the naturalization eligibility worksheet to determine your eligibility before you began your application.
3. Prepare your Form N-400 Application for Naturalization
Create an online account and fill out the Form N-400. Collect all necessary documents requested. You can also use the document checklist as you prepare for your application so you don't miss out on anything.
Prepare 2 passport-style photos if you are not currently in the United States.
4. Submit your Form N-400 and pay your fees
You can either submit your form on paper or online. You may also choose to pay your fees online.
Once you have submitted the Form N-400, USCIS will mail you your receipt notice, and you can check your case status and processing time online with the serial number that came with the receipt notice. 
5. Go to your biometrics appointments, if requested
You will receive an appointment notice from USCIS that includes your biometrics appointment date, time, and location. Arrive at the designated location at the scheduled time to have your biometrics taken.
6. Complete the interview
Once completing all preliminary processes, USCIS will schedule a naturalization interview with you. Report to the USCIS office at the appointed office at the scheduled time with your appointment notice with you.
7. Receive a decision from USCIS on your Form N-400
There are three possible responses:
Granted: Your Form n-400 may be approved if all evidence and records prove that you are eligible 
Continued: You application might be continued, but only if you provide the additional evidence/documentation requested, replace the incorrect documentation you've sent previously, or pass the 
Denied: From your record and evidence, USCIS determines that you are not eligible for naturalization
8. Receive a notice to take the Oath of Allegiance
After your N-400 is approved, you will either complete your naturalization ceremony on the day of your interview, or you will receive a notice from USCIS determining the scheduled date, time, and location for your Oath of Allegiance.
9. Take the Oath of Allegiance to the United States
Complete the questionnaire on Form N-445, Notice of Naturalization Oath Ceremony.
Report for your naturalization ceremony at the scheduled date, time, and location and check in with USCIS who will then review your responses to Form N-445.
Turn in your Permanent Resident Card (Green Card).
Take the Oath of Allegiance to become a U.S. citizen.
Receive your Certificate of Naturalization, review it to make sure all information on your certificate is correct. If not, you must notify a USCIS officer on site before you leave. 
10. Understanding U.S. citizenship
Learn more about the rights and responsibilities of a U.S. citizen.
Track Case Status and Processing Time
To track the case status of your application, log in to your account to get accurate updates.
What's next
After you receive your naturalization certification, you can start applying the following as the new U.S. citizen, such as U.S. passport, SSN updates, register to vote, etc. You can find further details on USCIS website (section "when you become a U.S. citizen. )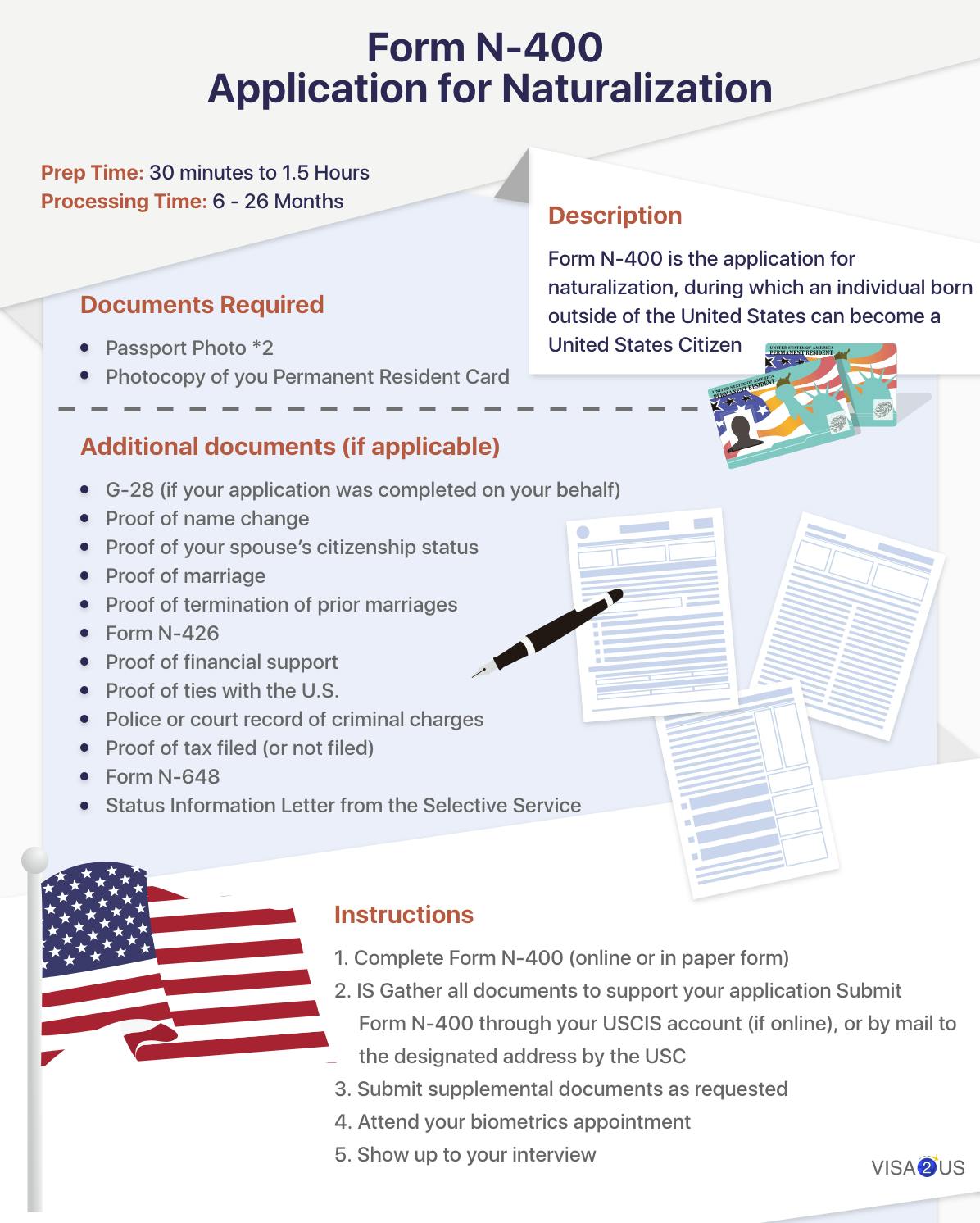 FAQs
Questions? We answered some of your most frequently asked questions.
Do I need a lawyer to apply for U.S. Citizenship?
What responsibilities do I have as a U.S. citizen?
Does USCIS publish the naturalization test questions?
Does USCIS make frequent changes to the questions on the naturalization test?
Will I be asked all 100 civics questions during the naturalization interview?
Because my Green Card allows me to travel between the United States and my home country, can I live in both places until I am ready to apply for citizenship?
How do I prove my marriage is "bona fide"?
Will USCIS approve my Form N-400 naturalization application once I pass the reading, writing, and civics portions of the naturalization test?
Can I legally change my name while my naturalization application is pending?
Do I need to bring original documents such as birth and marriage certificates to the naturalization interview?
When should I submit Form N-648, Medical Certification for Disability Exceptions?
How will I know what the decision is on the Form N-648, Medical Certification for Disability Exceptions, I submitted?
U.S. Citizenship
If you meet certain requirements, you may become a U.S. citizen via naturalization application.
Skip the research part of your immigration application.
Simply answer questions we prepared for you and the completed forms are ready!
Do It Yourself
A Comprehensive Guide for
U.S. Citizenship (Naturalization)
Wish to prepare and file application on your own? No worries! We will guide you through every step in preparing your application.
Application Process: Step by Step Guide
Learn how to complete the forms to make your application process go smoothly.